---
---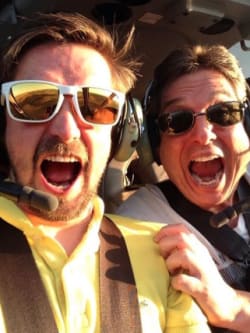 When we decided to de-merge from Ibuildings in 2012, we had an arrangement that the Dutch would keep the name and we would rename the UK operation. I asked Alex Blaney, our amazing Creative Director, to come up with a name. He has a method and a process of coming up with superb names and is brilliant at it. After a couple of weeks, he came up with a few options, one of which was Cortex. We all thought it was brilliant! Core, technology, brain – just brilliant!
But when I spoke to a friend of mine who is a solicitor, he said: "Don't even dare to think about using the name Cortex. There are so many products in the tech space with such a name that someone will sue you. Forget it and create your own name." He scared the life out of me, and the last thing I needed was a legal battle with a large conglomerate about intellectual property so we took his advice.
I called Alex the next morning and, together with Paul Wander, explained the issue.
"The advice I was given is that we should invent a new name," I said.
"Ok, I need a couple of weeks for that," he replied.
"Sorry, mate, we don't have two weeks. We have a company kick-off meeting next week and I need to announce the split from Ibuildings and announce the new name."
"But I need time to implement my method and process…at least give me a few days."
"Sorry Alex, you, me and Paul need to stay in the boardroom until we have a new name."
I could see the pain on his face, but he knew I was serious. We needed a new name, and fast!
So he started his method. He asked us what the company stood for, why we started the business, what was important to us, and as we answered, he started to write on the flipchart:
Innovation
Inspiration
Winners
Victorious
Clever people, solutions
Quality
And he came up with: In Vi Qa
IN – Innovation
VI – Victorious
IQ – I.Q., clever
QA – Quality
Paul and I just looked at Alex and said: " Wow! You are a genius."
And so Inviqa was created!
We called in a few of our team and one by one we asked them their opinion. They all loved the explanation and the name! We knew Alex got it right … AGAIN!
I am very proud of this name and am always delighted to explain its meaning – especially to new recruits while interviewing them or when we induct them in our bootcamp!
So why In vi qa?
IN

We started with Innovative, but I also added Inspiring
We are in the hi-tech business, so innovation and creativity is a driving force in everything we do. Our industry is moving forward at such a phenomenal pace that keeping up with all of the ideas, solutions and products is quite a challenge. We embrace all these new innovations and try to create some of our own so our customers will stay ahead of their competitors. We also look for people to join our team who are innovative, who think outside the box, and are always looking at leading-edge technologies.
I am also a big believer in inspiration. I believe that a CEO should inspire, motivate and drive his/her team to go further than they ever thought possible. I also believe that inspiring is bidirectional; I hope that I inspire my team and that they inspire me as well. I also hope to inspire my customers as much as they inspire me.
When I had dinner with one of our biggest customers and he told me how he started with £5,000 and has since built a £100M online fashion company with plans to get them to £1B, that inspires me and drives me to try to achieve even more for their brand and our other customers.
When I hear some of the things that members of my team have achieved, whether it's an amazing application they have built, if they have performed miracles for a customer, or presented a new idea, all of that inspires me!
VI
 The 'vi' in Inviqa stands for Victorious. We are winners and strive to be the best. Some think that the Inviqa name is short for Invictus. It isn't, although the connotation is welcome. I believe that the desire to be the best, to be first, and to be leaders is ingrained in true winners.Wanting to be the best has to be demonstrated from the top so we aim to lead by example. If I don't show my own passion and desire to be the best, how can I drive and inspire my team to do the same?
I always say that I want my developers to be good at many technologies, but be excellent in one. Be a leader, be a guru, become the go-to person. Pursuing excellence is good for the employee, good for the team, and good for the company to have some many experts on board.
There are many companies I know who would have settled with one company and 10-15 people. It's easy-going and they have no great ambitions, but we are not like that. We want to seize the amazing opportunity we have identified and go for it at full throttle!
One of the people I most admire is Sir Alex Ferguson, the legendary Manchester United manager. He started at United in 1986 and struggled in the first few years, but by 1993 he won the first championship. Over 27 years he helped his team win 13 championships and over 30 trophies. On the way, he built 4 new teams! What amazes me about him was his boundless, never-ending hunger for more and more trophies. He didn't sit on his laurels and retire after winning the European cup in 1999. He wanted to win it again and again.
I believe that Inviqa is the same. We could have kept building PHP applications, but we decided that we wanted to get into Magento, Symfony, and Drupal, and we are still looking for new opportunities. Along the way, we have had major successes, some amazing team members have joined us, we have first class customers and we have become leaders in our specialist areas.
IQ 
We know that if you want to be the best, you have to have the excellent people, but the A-Team requires the best. We know that in order to build superb, complex, sophisticated solutions for our large enterprise customers we require amazing people. The applications we build are not standard builds. We take on the tough and the difficult that requires clever, experienced, innovative and daring people. That means we are always on the lookout for amazing talent and "rough diamonds". To get a job at Inviqa is hard. Take a look at my previous blogs on the subject to find out just how hard.
In our annual company survey, one of the main strengths people say we have at Inviqa is the high calibre of people. I too am sometimes amazed at the quality we have in the company, and I know I'm not the only one. I remember one situation, which epitomises this fact.
We had just hired a new developer. He used to be a team leader at his previous company, but was only rated as a medium developer by our consultants. He accepted the role and was driven to become a senior developer and then a Technical Team Lead. In his first week he came to our London office for a technical session on a new project we were embarking on.
He came to me after the session, white-faced and in complete shock. He said: "For the first time in my life, I felt stupid."
"Why?" I asked perplexed, as I knew that he was far from stupid.
"Well, I just came out of a meeting with two CTOs, the training manager and few Team Leaders and I felt like the most stupid and ignorant person in the meeting. I couldn't believe the high level and the calibre of people and I couldn't even get a word in.I felt I couldn't contribute at all.I knew the level at Inviqa was high,but this is incredible!"
We both laughed and I told him to relax. "You will get to that level one day," I told him.


QA

Quality is at the heart of everything we do. For me, quality encompasses the emails that we write (I hate to receive emails with spelling mistakes), presentations that we create, documents that we compile, code that we develop, and applications we deliver.
I really am a fanatic when it comes to quality because I believe that our attitude to quality defines who we are. No one is perfect and as humans we make mistakes, but it's the attitude to minimising mistakes, identifying them and resolving them, which shows how much someone cares about quality. The fact that we have QA engrained in our name is because we want to show that quality is in our DNA. Inviqa is quality, and quality is Inviqa.
So that's the explanation of the Inviqa name. I hope you now appreciate what it stands for, because for us, it describes our DNA!
Image tester.
Image: © Quinn Anya via Flickr under Creative Commons Attribution 2.0 Generic
Image: © Harsha K R via Flickr under Creative Commons Attribution 2.0 Generic
Image: ©  Yoca91 via Flickr under Creative Commons Attribution 2.0 Generic
Image: © geralt via Pixabay under Creative Commons Attribution 2.0 Generic
Image: ©  agsandrew – Under Creative Commons Attribution 2.0 Generic
---
---