---
---
For many years I have been heavily involved in our recruitment process.
I have always believed that an IT services company is a peoples' company. If you work in IT services, you need to interact with a multitude of people: your team members, your customers, and third-party suppliers and partners so soft skills matter.
Here's what I look for in every candidate:
Social skills such a
s communication, confidence, relationship building, patience, and empathy are therefore some of the attributes which I believe are important for anyone working in an IT services company.
At Inviqa, being a team player is also crucial because we operate in groups and contribute as a whole to the Inviqa team.
It isn't enough to be a brilliant developer. The projects we take on are large and take months to deliver so the team must have a close and interactive relationship with the customer. To have a successful project relationship with the customer involves many disciplines including project management, front- and back-end development, quality assurance and business analysis as well as creative and design skills.
Passion – I have always believed that your best employees are the ones who are passionate about what they do. I was extremely passionate about Sapiens, the application development software I grew up on and the company I worked for.
To my amazement, I discovered a remarkable passion for PHP and Open Source within the developers we hired. These engineers were working with PHP during the day to make a living, and then working on
Open Source projects in their evenings and weekends – for free and with no compensation just because they were passionate about what they were doing.
It wasn't just a hobby, it was much more that that. It was their passion!
Winners – We wanted to build the A-Team! We want to be the best so we hire developers who shared our drive to build the best applications and be proud of them.
Software engineer – We want our developers to show the experience, maturity, knowledge and skills that a software engineer should have. There are many PHP developers out there, but we need software engineers who understand architecture, scalability, performance, and a whole lot more.
Learning – A desire for learning, development and progression is crucial in the IT industry. It is an industry which continually improves, changes and progresses at an amazing pace. We look for people who are self-starters, self-learning, and who can pick up new technologies very quickly.
Quality – Quality is a core ingredient of software development. Inviqa needs people who understand the importance of quality and can prove it.
Our interview process is thorough, and there's a good reason for that (we want the best). If a candidate passes through the technical tests and technical interview, he or she will then have a final interview with me.
I don't ask any technical questions as this will have been covered in the earlier interview stages. Instead I engage with the candidate on a human level and assess their soft skills. I know that an interview with a CEO could be an intimidating prospect to some. I have had candidates who said:
"I have never met a CEO before. In my previous companies, he was someone in the top floor that you only knew by name, and who'd you occasionally get a company wide email from."
"I couldn't sleep the whole night, knowing that I am meeting the CEO of the company."
"I couldn't believe that a CEO would interview a techie."
And more…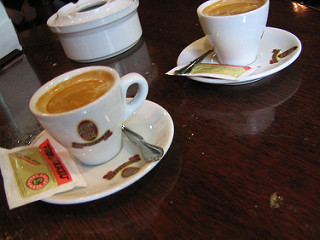 At some companies the CEO is hugely removed from their workforce and meeting them can be intimidating, but I try to be different. I look at ways to make the interview as relaxed and stress-free as possible. In many cases, I actually conduct the interview in a café or restaurant! Yes, why not? What could be more relaxing than having an interview in a quiet coffee shop? It makes it more like a social event than an interview.
The guy who told me he couldn't sleep all night lived in Manchester, and came to meet me in Liverpool. We met in a café, I bought him a coffee and we both stood together in the queue. I asked about his travel journey and where in Manchester he lived. Within minutes the intimidating, scary and nervy feeling disappeared and he completely relaxed. He felt so comfortable that when we came to sit down, he told me the famous line about his sleepless night and we both laughed at it! As it happens, he is also a big Manchester United fan and we very quickly descended into a serious discussion about the reds. Since then we've even been to a few United games together – once with his dad! So yes, we hired him, and he is one of our current stars.

If candidates come to meet me at our headquarters or any of the other offices we have, I try to show them round. I introduce them to a few people and try to make small talk to help reduce their nerves. It's important to make people feel at ease. I usually pick them up from reception as well, as I believe it is much more respectful than having them being led to my office.
In my experience, interviewing every candidate is the best way to ensure the quality of your company. But more than that, it helps solidify your team. Your people are the frontline of your business. You should know who they are, their background and their personality, which isn't possible by just reading their CV.
Assessing a candidate on the above traits during the interview itself is the topic of my next blog.
—
Images: © Flazing Photos via Flickr under Creative Commons Attribute 2.0 Generic
Images: © Boca Dorada via Flickr under Creative Commons Attribute 2.0 Generic 
Images: © Itsuo Inouye via AP Photo
---
---